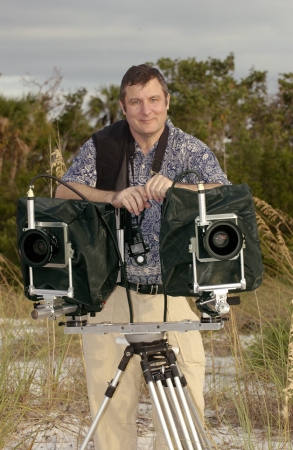 Richard Kraus Autobiography
Richard Kraus first fell in love with photography while studying journalism at Ohio University. Using a 35mm camera he borrowed from his father, he began shooting black and white photos. The darkroom in the College of Art provided a meeting place for endless hours of mingling with art students. There, Richard gained his eye for composition and learned the characteristics of great artwork. Richard's love of light and film had set deep but it was not until after graduation that he was able to buy his first camera, a used 8x10 Deardorf. Working as a studio photographer taking pictures for product catalogues was the vehicle for gaining his critical eye and for view camera techniques. Daily reviews from the senior staff photographer shaped and fine-tuned Richard's skills. When not at work doing studio photography, Richard quickly realised his real passion was for landscape photography. Carl Quedenfeld, a president of the Professional Photographers Association of America took Richard under his wing and invested personal time outside of work coaching Richard's development as an art photographer.

Richard journeyed to Newfoundland seeking new subject matter. He worked hard and saved enough money to undertake a more intensive project. Soon he was exploring the coastline of England photographing lighthouses. With his deep knowledge of photography and his unquenchable spirit of adventure, he photographed lighthouses from every unique perspective possible. He found himself on cliffs, in boats, and even in helicopters clicking the shutter. Tragically, after six months of hard work for Trinity House in London documenting lighthouses, the majority of this work was lost in the post.

Refusing to give up his love of art photography after adversity, Richard moved on to photograph England's The New Forest (now a National Park). Waking hours before sunrise and carrying fifty pounds of gear into the forest, he emerged with breathtaking images of sunlight piercing the morning mist. Richard skilfully photographed gentle ponies, swans, and other livestock in their serene environments seeming untouched by civilisation. Richard's technical skill made it possible to capture images in these challenging low light atmospheres.

After four years of determined work, and before the New Forest photos had been completed, the British government presented Richard with a deportation notice because he had no work permit. He became a news media focus and more than 3,000 people in Southampton signed petitions to keep him in the country. With that momentum, Richard published his first book "An English Forest" with Constable publishers in London in 1982, the largest book that Constable had ever produced. This masterpiece was such a success that it broke records in the British publishing industry and Richard was soon in Japan to oversee another printing of 10,000 copies much sooner than anticipated. Constable books agreed to publish another book of Richard's work titled "Portrait of a Forest".

Richard's passion to help people led him back to America in 1991 to earn a Ph.D. in counselling Psychology from the Union Institute. In 1995, the Kraus family, Richard, Nancy and three children moved to Naples, Florida. Richard ran a program for a psychiatric hospital called Charter Glade until they went out of business in the late 90s.

Richard then turned back to photography and produced another large coffee table book for Seagate Publishing titled "Exclusively Naples". In 2000 Richard began a company with his son, Edward, offering art reproduction. Artists appreciate Richard's attention to detail and his commitment to the highest quality possible. This has brought Richard back in touch with a strong art community and has spurred a new interest in photographic art. He has recently designed and built a panoramic camera using two 8x10 view cameras capable of dramatic detail never before possible. The results will be presented on this website in due course.